SMEs sacrificing profits to pay National Living Wage, survey finds
Posted on in Business News , Cycles News , Creative News, Outdoor News
Nearly two thirds of small British businesses affected by the introduction of the National Living Wage have cut back their profits to cover the cost, according to a new report.
A survey by the FSB found that 64 per cent of small firms have taken a hit to their profits in order to pay their staff more.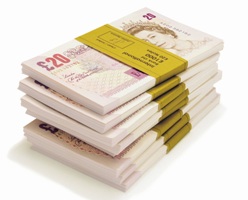 39 per cent of businesses have put up their prices in order to cope, 24 per cent have scaled back or cancelled their investment plans and 22 per cent have reduced staff hours.
19 per cent have hired fewer workers, but less than four per cent have hired more workers under the age of 25, who are on a lower pay rate.
The government's National Living Wage increased hourly pay to £7.50, and it is expected that it could rise as high as £8.75 by 2020.
The survey found that while the majority of small businesses were already paying staff above the National Living Wage, 43 per cent had to increase wages to meet it.
"Small employers have demonstrated their resilience in meeting the challenge set by the National Living Wage, with many cutting their margins, or even paying themselves less, to pay their staff more," said Mike Cherry, national chairman at the FSB.

Add a comment